Twitter does not intend to reverse its decision to ban Laura Loomer from its platform, even though the far-right conspiracy theorist won a Republican congressional primary last night.
"We do not plan to reverse that enforcement action," a Twitter spokesperson told the Daily Beast.
Before her Twitter account was shut down, Loomer tweeted in 2018, "Someone needs to create a non Islamic form of Uber or Lyft because I never want to support another Islamic immigrant driver."
Loomer won the Republican primary in Florida's 21st congressional district last night, but she is widely expected to lose her general election race in the Democratic-leaning district.
In his convention speech tonight, Barack Obama is expected to reach out to younger voters who may not be as enthused about Joe Biden's campaign as they were about Obama's first run in 2008.
The AP reports:



In a live address Wednesday at the Democrat's virtual convention, Obama will aim to serve as a bridge between those reassured by Biden's lengthy resume and more moderate record, and a younger generation of Democrats agitating for a seat at the table and pushing for more sweeping changes to the nation's economic and domestic policies.

'He is an incomparable witness for Biden,' David Axelrod, a longtime Obama political adviser, said of the former president. 'But he also speaks compellingly to young people restless not just to purge Trump, but to achieve real, meaningful change.'
One aide to Barack Obama told NBC News that the former president's decision to deliver his convention speech from Philadelphia's Museum of the American Revolution was meant to underscore how "our very democracy is on the line" in this presidential election.
Obama is not the only politician visiting the crucial swing state of Pennsylvania this week. Trump is scheduled to hold a campaign event tomorrow in Old Forge, Pennsylvania, where he will deliver a speech on "Joe Biden's Record of Failure."
Barack Obama will deliver his convention speech from Philadelphia's Museum of the American Revolution, according to CNN.
The former president is scheduled to speak at the virtual convention tonight, shortly before vice presidential nominee Kamala Harris delivers her acceptance speech.
Obama's choice of setting is significant, considering Hillary Clinton narrowly lost Pennsylvania in 2016 and Democrats are hoping to carry the state in November.
DeJoy will not reverse USPS changes already made, Pelosi says
House speaker Nancy Pelosi said the postmaster general told her he does not intend to replace mail sorting machines that have already been removed from certain USPS locations.
Pelosi said she she spoke with Postmaster General Louis DeJoy this morning, and he indicated he would not reverse the operational changes already implemented to the postal service.
DeJoy announced yesterday he would suspend certain planned operational changes, but he did not address the cost-cutting actions he had already taken.
"This morning, I spoke with Postmaster General DeJoy and conveyed to him that his announcement is not a solution and is misleading," Pelosi said in a statement.
"The Postmaster General frankly admitted that he had no intention of replacing the sorting machines, blue mailboxes and other key mail infrastructure that have been removed and that plans for adequate overtime, which is critical for the timely delivery of mail, are not in the works."
The Democratic speaker said the House would still vote Saturday on a bill aimed at maintaining USPS' pre-pandemic level of operations.
Echoing her past statements on the postal service, Pelosi said, "The Postal Service is Election Central during the pandemic, and Democrats will not allow the President to force Americans to choose between their health and their vote."
Updated

McEnany dodges question about Trump accepting election results
White House press secretary Kayleigh McEnany has just wrapped up her briefing, during which she was asked whether Trump would accept the election results if he did not win.
Trump has previously said that the only way he would lose the presidential election is if it were "rigged," even though national polls show him trailing Joe Biden by several points.
"Is the president saying if he doesn't win this election, that he will not accept the results unless he wins?" a reporter asked McEnany.
The press secretary replied, "The president has always said he'll see what happens and make a determination in the aftermath."
McEnany said Trump would closely examine the election results to determine if they were subject to fraud, even though voter fraud is very rare.
The president has already tried to raise doubts about the legitimacy of the election, and McEnany's answer left the door open to him refusing to accept a loss in November.
McEnany: 'MAGA is pretty much synonymous with Blue Lives Matter'
White House press secretary Kayleigh McEnany was again asked about Trump's call for a boycott of Goodyear tires.
Earlier today, the president tweeted, "Don't buy GOODYEAR TIRES – They announced a BAN ON MAGA HATS. Get better tires for far less!"
That tweet was an apparent reference to a viral photo from a Topeka, Kansas, Goodyear plant that showed the site's ban on political attire.
According to the photo, "Black Lives Matter" and LGBTQ pride apparel were "acceptable" to wear at the plant, but "Blue Lives Matter," "All Lives Matter," and "Make America Great Again" apparel were not.
McEnany repeatedly described Blue Lives Matter, a pro-police response to the Black Lives Matter movement, as an "equity issue."
When a reporter pushed back, noting that Goodyear's definition of political apparel is pretty common across many companies, McEnany doubled down and equated the Blue Lives Matter movement to the president's slogan of "Make America Great Again."
"MAGA is pretty much synonymous with Blue Lives Matter these days," McEnany said.
Critics of Blue Lives Matter have argued the slogan demeans the Black Lives Matter movement and unfairly equates the choice of occupation to racial identity.
Updated

White House press secretary Kayleigh McEnany fielded multiple questions about the US Postal Service, amid concerns that the president is purposely trying to slow mail services to hamper voting by mail.
But McEnany dismissed those concerns as the "latest Democrat manufactured crisis."
Postmaster General Louis DeJoy announced yesterday that he was suspending certain USPS operational changes until after the election, but concerns remain over mail sorting machines that have already been removed.
McEnany holds White House briefing
White House press secretary Kayleigh McEnany is now holding a briefing, and she unsurprisingly opened her comments by criticizing House speaker Nancy Pelosi.
When the briefing shifted to reporters' questions, McEnany was asked whether the president's limousine would still use Goodyear tires after Trump lashed out against the Ohio company.
McEnany oddly replied, "I am not going to comment on security matters."
The White House is preparing for Trump's convention speech next week, which he will deliver from the South Lawn.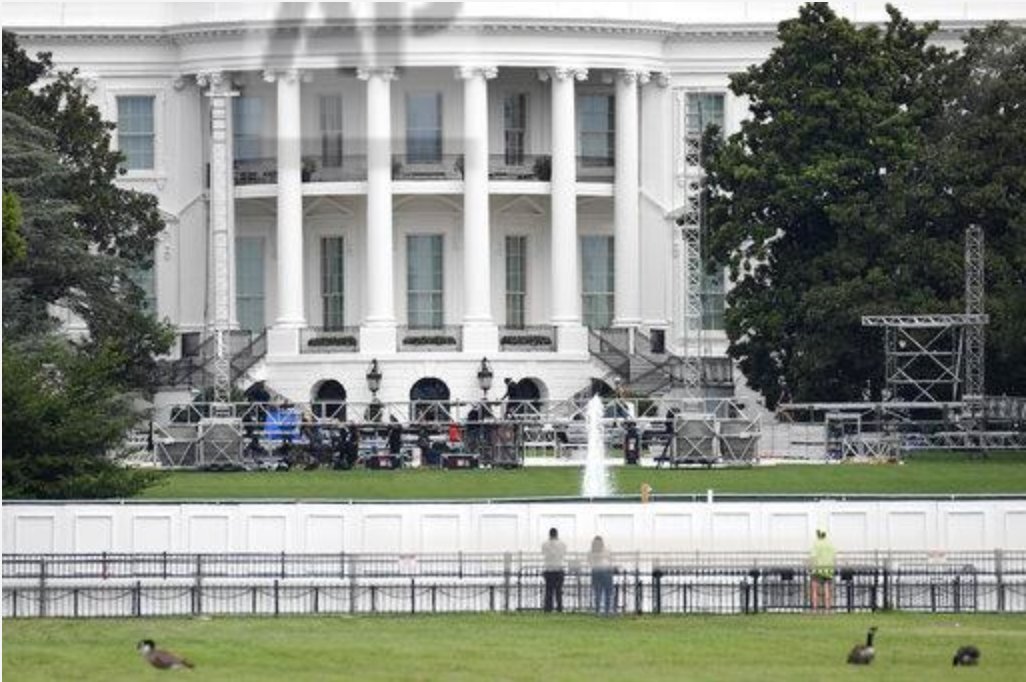 The president's decision to accept the Republican nomination from the White House sparked concerns among government ethics experts.
The office of special counsel said last week that Trump was free to give his speech at the White House, but it emphasized there could be legal concerns for White House employees if they are too closely involved in planning of the event.
This is Joan Greve in Washington, taking over for Daniel Strauss.
First lady Melania Trump will give her convention speech next Tuesday from the White House Rose Garden, according to the AP.
The president is also expected to deliver his convention speech next Thursday from the White House, after he toyed with the idea of going to Gettysburg, Pennsylvania, for the event.
The setting for the two speeches is noteworthy considering Trump and his allies have lashed out against Democratic nominee Joe Biden for not traveling to Milwaukee, Wisconsin, to deliver his convention speech.
However, those attacks take on a different tone when the president himself is not traveling for his speech.