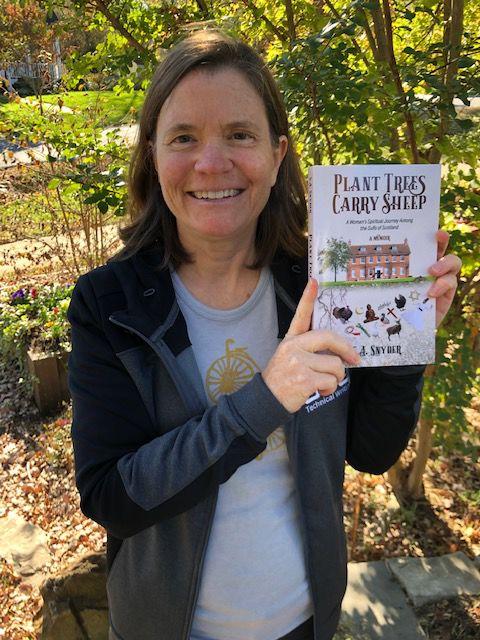 When S.A. Snyder left her home in Montana to volunteer to plant trees at a private estate in Scotland, she didn't know she'd also have to care for a menagerie of poultry, do rigorous household chores and shepherd a flock of sheep that escaped from their field almost daily—and which she always had to chase back.
"I thought it was going to be a nice six-month break from my humdrum life. I had no idea it would be a soul-forging adventure," Snyder says. "It was the worst of times and the best of times, a real rollercoaster experience that changed my entire relationship with life for the better."
Six months turned into two years and a memoir called "Plant Trees, Carry Sheep: A Woman's Spiritual Journey Among the Sufis of Scotland."
Snyder moved to Herndon from Scotland in 2001 and has worked for various nonprofits and private companies as a writer and marketing professional. She already has two spinoff books due for release next year.
With self-deprecating humor, she chronicles her time at the spiritual retreat center, called "Braemar" in the book, a name Snyder invented to protect the retreat's privacy. Among the backdrop of relentless cold and rain, unruly livestock and never-ending chores, she navigates peculiar rituals, the challenges of communal living—at times as many as 100 people lived there—and spiritual teachings that, at first, appeared at odds with her own Christian upbringing. There's a bit of romance too.
Although the retreat residents aren't true Sufis, the mystics of Islam, much of Braemar's course teachings are grounded in Sufi principles. And here is where Snyder's physical journey turned spiritual. Her exposure to Islam helped her better understand the religion and see God in a different light.
Snyder likens the experience to Bridget Jones leading the life of James Herriot ("All Creatures Great and Small") at a humbler version of "Downton Abbey" — "except everyone was a servant," she says.
Snyder will talk about her adventure and sign books at the Elden Street Tea Shop in Herndon on Friday, Nov. 15 from 5 – 7 p.m. All attendees will get a free raffle ticket for a chance to win a copy of the book. You can find out more about her book on her website: www.LunaRiverVoices.com. The memoir is available on Amazon or you can order a copy at any bookstore.