The Muslim Association of Canada (MAC) is holding its annual Eid al Fitr prayer and hallmark Muslim Summer Festival together on July 6th from 8am to 8pm at the Ernst & Young Centre.
Participants will also have an opportunity to make their Zakat donations to Islamic Relief Canada, one of the event's sponsors, who have secured a private donor to match all the donations given at the event. 
Muslim Summer Festival (MSF) is recognized by the City of Ottawa as an important city wide event and is a recipient of the Celebrate Ontario grant.
This year's Eid will be the first Eid celebrated by a very large number of Syrian refugees in Ottawa and MAC is working to ensure many of them will attend this Festival.
Muslim Link spoke to the festival organizers about what participants have to look forward to this year.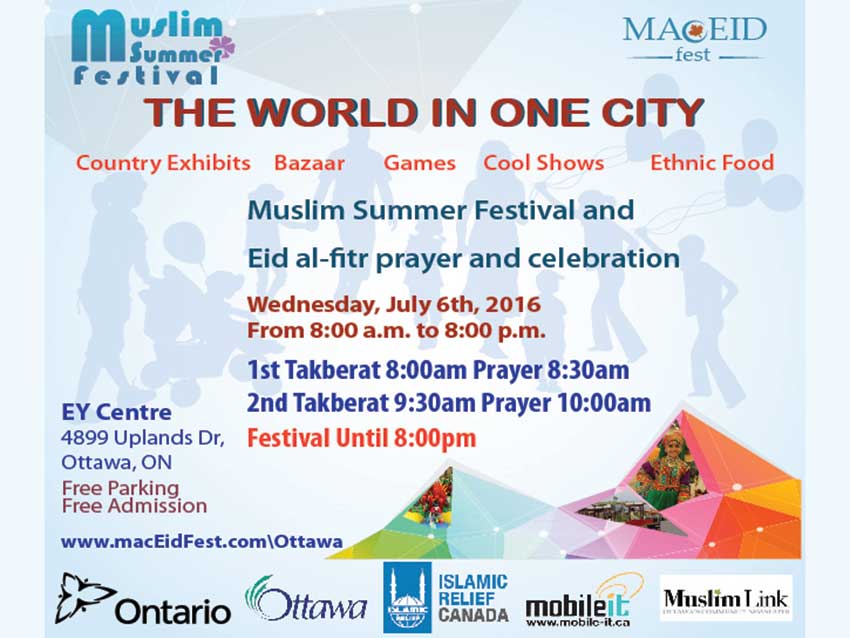 1. What are some of the highlights participants can expect to enjoy at this year's festival?
There will be multiple cultural shows from Palestine and Yemen, debke, an illusionist, a puppet show, and a comedy show. This year we are having an animal show the serves as an educational opportunity to learn about endangered animals in Ontario. We will have bubble soccer, a stilt walker and a clown, balloons for the kids, train rides, horse and pony rides, and of course games which includes special games for toddlers, and arcade games. 
2. There will be a Country Exhibition. What are some countries which we can look forward to seeing this year? Are you still looking for exhibitors? If so, what are some of the benefits of presenting your country at the Summer Festival and how can people get involved?
As it is a joint event combining the MAC Eid Festival and Muslim Summer Festival, we will have a country exhibition. The theme this year is "Arts in Islam". We have several countries confirmed including: Palestine, Lebanon, Jordan, Iraq, Somalia, Afghanistan, Yemen, Tunisia, Syria, and Egypt. More exhibitors are welcome. If someone would like to represent a country, they can contact us at This email address is being protected from spambots. You need JavaScript enabled to view it. naming the country they would like to represent or they can sign up here.
It is important to showcase the vast and diverse cultural mix that makes up the Muslim community here in Canada. We are all proud Canadians, and a big part of that is due to the fact that in Canada all cultures are welcome. This is the Canadian way, but one could say it is also the Islamic way. In addition, it is important for us to showcase the diversity in the community and use it as a learning opportunity to teach ourselves and our neighbours about the different Muslim cultures in Ottawa-Gatineau. 
3. Are you still looking for volunteers? What are some of the benefits of volunteering for the MAC Eid Festival? 
We are always looking for more volunteers. We strongly believe in the importance of volunteer work in shaping both the individual and the community at large. Volunteering is a great way to get involved in the community, this entire event is organized and run by volunteers, many of whom started by filling a volunteer form at one of our previous events. And what could be better than ending the blessed month of Ramadan on a high note through charitable work? There is nothing greater than helping put a smile on a child's face on the day of Eid. Volunteers can register here.
The following are some of the vendors people will be able to visit at the Festival's Bazaar.
Henna will be done by The Henna Lady.
There will be a number of clothing vendors including Ottawa's Firdaws Garden of Scarves, Boutique Alhidaya from Montreal, and Um Anas Islamic Fashion from Toronto
There will also be information about studying at Algonquin College as well as community services from The Children's Aid Society of Ottawa, the Ontario Ministry of Corrections and Community Safety, and the City of Ottawa.
For a full list of vendors visit here and to ask about reserving a booth send an email to This email address is being protected from spambots. You need JavaScript enabled to view it.
This article was produced exclusively for Muslim Link and should not be copied without prior permission from the site. For permission, please write to [email protected]